Review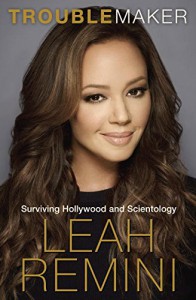 To tell you the truth, I didn't plan to read Troublemaker because of all the juicy details of Scientology, but because I genuinely desired to gain more knowledge of Remini as a person, and of her journey through the many pumps of Hollywood and entertaining business.

Be still my heart, I did not need to face a disappointment.

Troublemaker is an excellent example of an autobiography that drags the reader inside with a warm and easygoing voice, a voice that doesn't place one above the other, a voice that let's the real person be touchable and felt. This is not always easy to achieve but Remini and Paley did make it run and work perfectly, building up an autobiography that chronicles Remini's life in an entertaining way.

I have a new respect for Leah Remini. I'm so very glad to have read this and so very glad she was able to extricate herself from such madness. Teach your children critical thinking skills, people! I think that's the real takeaway. If you want a detailed account of Scientology, you might want to pick up a well researched text book, but if you drive from individual experiences, Troublemaker is your book, all the way from the start to the end.